When it comes to braces, Dr. Bernard Gorkowitz offers many options. We offer our patients in Livingston and Hasbrouck Heights metal braces as well as clear braces, so you have choices. We offer low and no down payment options as well as extended financing, so it's easy for everyone to get the braces they need.
Metal Braces
Metal braces have been around for decades and are what many people still think of when they think of braces. However, metal braces have improved over the years! Today, the metal braces we offer adults, teens and children in Hasbrouck Heights and Livingston are smaller and not as noticeable as metal braces used to be. Another update is that today's metal braces use body heat-activated archwires to help your teeth move more quickly and with less pain involved.
Metal braces can also be "customized" with colored bands — so you can express yourself with your favorite colors.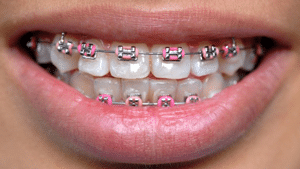 Clear Braces
These braces are almost invisible, and that makes them a great alternative to metal braces for those who don't want it to be obvious that they have braces! Best of all, we offer our clear braces with no additional charge from the metal braces price.
Clear braces are as effective as metal braces at realigning your teeth, but aren't as immediately obvious to the casual observer. So the first thing people notice about you is your happy smile, not your braces! We offer clear braces for adults, teens and children in Hasbrouck Heights and Livingston, NJ.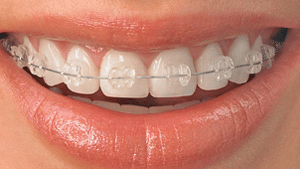 Self-Ligating Braces
We offer our patients in Hasbrouck Heights and Livingston self-ligating braces as one of our orthodontic options. But what are self-ligating braces, and why might you want to choose them?
Self-ligating braces are much like more conventional braces except that instead of using elastic bands, rubber bands or metal ties, this type of braces uses clips or brackets to help move the archwire — and thus your teeth — into place. Some of the benefits of self-ligating braces include less discomfort because they allow your teeth a greater range of movement, less of a feeling of friction or pressure, and fewer trips to the orthodontist.